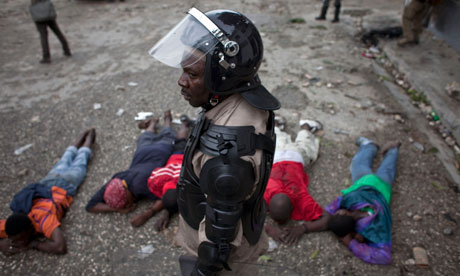 From the
Guardian
:
Gunfire in the centre of Port-au-Prince has left at least one person dead as violent disputes over the conduct of the presidential election continue to grip Haiti.

Election officials attempted to calm the unrest, now in its fourth day, by promising a recount of the vote to settle which two of the three leading candidates go into a final round.

Supporters of Michel Martelly, a popular carnival artist, say he is being deprived of a place in the runoff through vote-rigging to favour Jude Celestin, the ruling Unity party's chosen candidate.

Several people suffered bullet wounds in the Champ de Mars, a park beside the national palace that has become a shantytown in the wake of January's devastating earthquake. Supporters of Martelly were detained (above) as police quelled the riots.

The presidential election has been widely criticised by UN, US and EU monitors for being poorly organised and riddled with fraud and intimidation of voters.
Trouble upon trouble for the people of Haiti. What next?
Meanwhile, the cholera epidemic continues to take its toll.
While containing the violence remains the Haitian authorities' priority, the cholera epidemic that has so far claimed 2,000 lives continues to sap energies and resources. New evidence emerged today that appeared to support suggestions the disease was introduced by UN peacekeeping forces from Asia.

Genetic tests carried out by a team of scientists in the US confirmed that the strain of cholera that has hit Haiti came from south Asia. It was a particularly dangerous mutation that resembled a strain found in Bangladesh.
Prayer for Haiti
By Josh Thomas at the
The Daily Office
.
O Father of the poor and Mother of the oppressed: Enfold in your arms the suffering people of Haiti. Comfort those in mourning; relieve those in pain; give shelter to the homeless and hope to those in despair. Feed your people, O God, with bread both earthly and divine, and give them your water and wine. Help them bury the dead, nurse the sick and wounded, and raise their faith and dignity, for they are some of your dearest children. Proclaim your truth that this vibrant, creative nation still shines as a beacon of freedom throughout the Americas. And help the people of Haiti, with the nations of the world, to rebuild their colorful land in the image of your Son Jesus Christ, who knows our suffering because he took our mortal pain into his body on the Cross, then rose again to live and reign with you and the Holy Comforter. Amen.
O God, we pray for your peace that passes understanding to fill the hearts of the people of Haiti that violence may cease, and that the people of the country may join together to work for the betterment of life for all in their country. We pray in the name of your Son, Jesus Christ Our Lord. Amen.