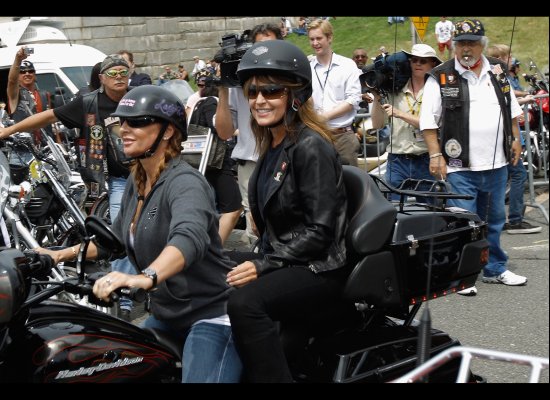 From
The Note
:
As speculation swirls over whether former Republican vice presidential candidate Sarah Palin will enter the race for the 2012 presidential campaign, former 2008 Republican presidential candidate Senator John McCain (AZ) said this morning that he thinks Palin can win in a race against President Obama in 2012.

"Of course, she can," Senator John McCain made said on "Fox News Sunday" this morning. "She can. Now, whether she will or not, whether she'll even run or not, I don't know."
....

"She [Palin] also inspires great passion, particularly among Republican faithful." McCain said.
Sarah inspires my passion to hope that she will run and win the Republican nomination.
I'm puzzled that Sarah's not in the driver's seat in the picture. She doesn't function at all well in second place. Still, from the rear seat of a motorcycle, I suppose she hasn't much choice but to follow the leader.
Photo from
The Huffington Post
.
This post was inspired by PJ DeGenaro at
Facebook
.